360 Frontal Wig 180% Density Deep Wave Brazilian Virgin Hair [TLW05]
Orders(700)
Regular Price
$266.00
Special Price
$99.00
In order to reduce excess inventory, Brazilian Virgin 360 wigs are in the sale price. The coupon codes and points can not be used.
WowAfrican 100% human hair virgin hair comes from one single donor that means it is not processed or chemically treated in any way. Virgin hair can be curled, straightened and dyed to any color.
 What is 360 lace wig? we pre-sewed the 360 frontal & bundles into a wig. It is not full lace, not lace front, which is with lace around. 360 lace wig is with more wefts at top, total wig density is 180%. (360 frontal area density is standard 130%)
With this 360 lace wig you can have the versatility in styling options 
Up-dos and high ponytails 

Freestyle parting – so you can part in any desired direction. 

No more need to worry about your edges showing or your tracks being exposed!! 

You will have more depth in styling options with this trending and revolutionary hair extension piece.

 
100% Brazilian Virgin Hair 360 Lace Wig
 Length: 20inches(18in 360 frontal &20in bundles) 
Style: Deep Wave
Wig Cap: 360 lace around with wefts at crown
Color: Natural Color
Density: 180% (360 frontal area is standard 130%)
Hairline: Pre-plucked Hairline
Elastic Band (Image): Removable & Adjustable
Bleach Knots (Image): Yes
360 Lace Frontal Wigs Length & Weight
360 Frontal Wig Length
 frontal & bundles length
Weight(180%)
Weight(150%)
Weight(130%)
12in
10in 360 frontal with 12in bundles
 180 gram
145 gram
120 gram
14in
12in 360 frontal with 14in bundles
 220 gram
175 gram
140 gram
16in
14in 360 frontal with 16in bundles
 240 gram
200 gram
150 gram
18in
16in 360 frontal with 18in bundles
 255 gram
210 gram
180 gram
20in
18in 360 frontal with 20in bundles
 280 gram
235 gram
195 gram
22in
20in 360 frontal with 22in bundles
318 gram
263 gram
213 gram
24in
22in 360 frontal with 24in bundles
332 gram
290 gram
232 gram
What is the bleached knots?
Bleached knots help the hair appear as if it is growing from the scalp. When hair is tied to the lace, there is a dark knot where the hair is secured. Bleaching can make knots undetectable and very natural looking. WowAfrican bleaching method won't affect the hair life and doesn't cause shedding problems. On natural bleach hair, the knots are lightered to a light brown shade.
What is a pre plucked hairline?
When a wig is plucked, it is less dense in front, which is exactly the case with real hair. If you take a look at your strands, you will notice hair of unequal length and some short baby hair around your hairline. This is because new hair grow constantly and they can't all be the same length.For a wig to be completely realistic, it has to imitate just that. Plucking of the hairpiece creates those perfect baby hairs and a flawless hairline. Although pre-plucked wigs are usually more expensive, they are simply superior in appearance to all others.
What is the removable Elastic Band?
WowAfrican provide the removable adjustable elastic band(optional) to customers. It is made to be sewn unto wigs for a better, more snug fit. There are 3 hook adjustable options to secure your wig better. If you don't want to wear it, it is easily to remove the wig. The rest two small bands won't affect to wear the wigs.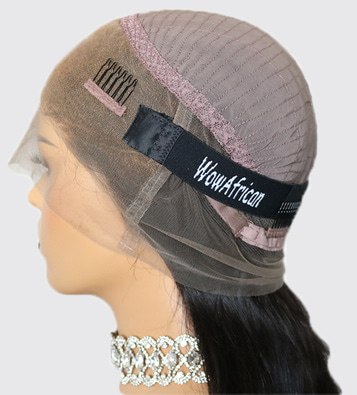 How To Wash Your Wig
Co-wash your hair. It is important to Co-wash the hair before you install to reduce tangling.
Blow dried and don't let it air-dried. The longer the hair swelling goes on,the more pressure it puts on the delicate proteins keeping hair intact,which can lead to more damage.
Use Wide Toothed Comb.After you washed hair, try using a wide toothed comb. Or, use your fingers, rather than a brush.
Deep Condition. After serval installation,a deep condition is necessary.Good conditioner or deep conditioner is need.Try not to apply conditioner to the cap of wig. Just apply condition on the mid shaft of hair down the ends of hair..
How To care curly hair
Choose a shampoo & condititoner that suit your hair type. Curly or coarse hair probably wants frizz-minimizing and softening shampoo.Colored or treated hair probably needs a shampoo that's fortified with extracts or amino acids...
Proper way to deep condition curly hair. Deep condition at least once a week with cold water.Apply moderate the conditioner starting about an inch down from the root all the way down to the tips of your hair,Wait about 15 minutes before rinsing, then use a wide toothed comb working up from the tips to the roots so your hair..
Styling curly hair Shape the hair by scrunching it some more and twirling pieces around a finger.Avoid using brushes and narrow-toothed combs and avoid touching your hair as much as possible.
Don't straighten curly hair because it may cause hair problems like shedding and tangle.We don't suggest to dye the curly hair.Because curl won't keep after coloring.
Customer Reviews
Share your thoughts with other customers
fast shipping, best service

This is my fourth wig from Wowafrican, and I am more than pleased. Immediately after ordering, I had questions and wanted to make a change. My contact person was Ant. He got back to me each time within less than 24 hours. The customer service was impeccable! I was impressed with them from the beginning of my order until it arrived at my door. I love the wig. The packaging speaks to the care they give their customers. Wowafrican is now my go-to wig company for human hair lace wigs because I can count on them to deliver.

Good

I'm in love!! It came ready to wear. I got this for my birthday and super happy I will order again! And tell all my friends!