Natural Color Yaki Straight Indian Remy Hair Glueless Full Lace Wigs[GFL05]
Orders(1933)
100% Indian Remy Hair Full Lace Wig
 Length: 18inches
Style: Yaki Straight
Wig Cap: Cap4 Glueless Full Lace Wig Cap
Color: Natural Color
Density: 130%
Hairline: Pre-plucked Hairline
Elastic Band (Image): Removable & Adjustable
Bleach Knots (Image): No

 
What is the bleached knots?
Bleached knots help the hair appear as if it is growing from the scalp. When hair is tied to the lace, there is a dark knot where the hair is secured. Bleaching can make knots undetectable and very natural looking. WowAfrican bleaching method won't affect the hair life and doesn't cause shedding problems. On natural bleach hair, the knots are lightered to a light brown shade.
What is a pre plucked hairline?
When a wig is plucked, it is less dense in front, which is exactly the case with real hair. If you take a look at your strands, you will notice hair of unequal length and some short baby hair around your hairline. This is because new hair grow constantly and they can't all be the same length.For a wig to be completely realistic, it has to imitate just that. Plucking of the hairpiece creates those perfect baby hairs and a flawless hairline. Although pre-plucked wigs are usually more expensive, they are simply superior in appearance to all others.
What is the removable Elstic Band?
WowAfrican provide the removable adjustable elastic band(optional) to customers. It is made to be sewn unto wigs for a better, more snug fit. There are 3 hook adjustable options to secure your wig better. If you don't want to wear it, it is easily to remove the wig. The rest two small bands won't affect to wear the wigs.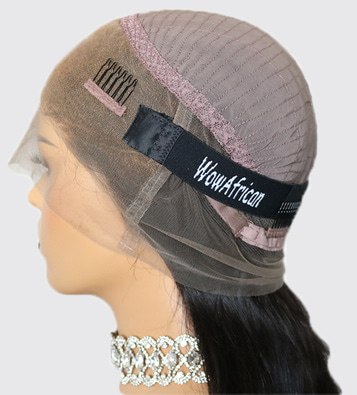 How To Wash Your Wig
Co-wash your hair. It is important to Co-wash the hair before you install to reduce tangling.
Blow dried and don't let it air-dried. The longer the hair swelling goes on,the more pressure it puts on the delicate proteins keeping hair intact,which can lead to more damage.
Use Wide Toothed Comb.After you washed hair, try using a wide toothed comb. Or, use your fingers, rather than a brush.
Deep Condition. After serval installation,a deep condition is necessary.Good conditioner or deep conditioner is need.Try not to apply conditioner to the cap of wig. Just apply condition on the mid shaft of hair down the ends of hair..
How To care curly hair
Choose a shampoo & condititoner that suit your hair type. Curly or coarse hair probably wants frizz-minimizing and softening shampoo.Colored or treated hair probably needs a shampoo that's fortified with extracts or amino acids...
Proper way to deep condition curly hair. Deep condition at least once a week with cold water.Apply moderate the conditioner starting about an inch down from the root all the way down to the tips of your hair,Wait about 15 minutes before rinsing, then use a wide toothed comb working up from the tips to the roots so your hair..
Styling curly hair Shape the hair by scrunching it some more and twirling pieces around a finger.Avoid using brushes and narrow-toothed combs and avoid touching your hair as much as possible.
Don't straighten curly hair because it may cause hair problems like shedding and tangle.We don't suggest to dye the curly hair.Because curl won't keep after coloring.
WowAfrican
Show us your looks and tag @Wowafrican_Official #wowafrican for a chance to be featured!
Customer Videos
Show us your looks ft wowafrican.com for a chance to be featured!
Customer Reviews
Share your thoughts with other customers
Comfort & Beauty In Spades w/ This Unit!

Have had this wig for just shy of a month. Not only was delivery great...given the add'l days for customization, got it w/in 2 weeks. Originally, wasn't sure what to expect w/ the yaki/indian remy given some of the comments I've read. So first off this wig just out of the box was lovely! I washed it first and cut the lace and fell in love with this wig all over again! The staight yaki is such a natural texture, so it doesn't look like a wig at all and is compatible with the natural length of my hair and texture. This wig also holds a curl well. They were quite generous with the length as well. The density though I thought was 150 when I ordered, was actually 130 and that didn't matter (I didn't pay attention to the specifics noted - but that was my oversight). I'd definitely order this wig again but w/ 150% density. Also, it washes well and have experienced a bit of shedding & no matting has taken place - this just isn't something I've experienced with this wig; another plus. The most important thing I need to note is how comfortable the Glueless Lace (GL) line is! It's so lightweight you won't feel like you're wearing a hat all day & overall is a beautiful wig. So I have comfort & beauty with this unit! I prefer the GL line much more than the 360 where comfort & ease of wear is a huge factor. Customer service is tops with this company as well.

Dyed hair is not the best... but still pretty

This hair is dyed, so it shed a LOT. When i first got the unit it felt like it was Barbie hair. It was not the same quality I was used to with WowAfrican but then I realized that was because the dye was making it tangle a lot. It thinned out really fast. That said... when the dye washed out after a while it was more manageable.. of course by then it was totally thinned out ! WowAfrican makes beautiful hair, and they are definitely the best hair company I've found , but make sure you always get the natural color and treat the hair like your own

I would not recommend this unit. TOO MUCH TANGLING.

So I've had this wig for about two months. In that time, I've had it tangle up horribly in the nape/back of the wig EVERY. SINGLE. DAY. I carry a paddle brush and detangle it at least three times throughout the day. I detangle it when I take it off at night, and I hang it on a hook. The next morning, it's a knotted mess again. So I detangle it. I lose a good amount of hair with each detangle. It's not balding or anything, but I don't think this wig will last me past December.

Every time I wash the wig, the hair dye comes out! And I didn't ask for any type of dye - I just selected the 'natural color' option. I've washed the wig about 4-6 times and I've seen the water rinse out brown each time. The wig sheds....moderately with each rinse as well.

The knots on this unit DID NOT BLEACH. I tried to bleach the knots for a more natural effect and the color did not lift. Take that as you will.

This is a very short frontal as well.

All that being said, the wig is comfortable to wear and if you detangle it, the unit looks fine. I just think that the excessive detangling makes this unit a no-go for me. Save your coins.

Beautiful Wig

This was my first WowAfrican wig. Let me just say. I am extremely pleased with this beautiful wig. It looks so realistic and it washes like a dream. I was going to have my stylist dye her...but I love how it looks like my own hair pressed.

WOW

My first time ordering a wig...customer service was amazing && this wig is amazing!! If you are African American and looking for a more natural texture then that yaki straight is the way to go! Will be ordering again.

A new, faithful customer

I'm new to wearing wigs and I am impressed. I spent time trying on wigs in stores but this wig is amazing. The cap is so comfortable, the hair is easy to wash, dry and curl and most importantly, the hairline is perfect especially for someone like me who is transitioning. The customer service was so attentive in letting me know that they received and were processing the order. I've already begun to tell my friends all about this wig and I'm planning on shopping here again!

Beautiful wig!

Its my indian wig full unit i ended up cutting it into another style, Over one year ,Its still in amazing condition

"Wow wow wow

"Wow wow wow where do I even begin, this hair is by far THE BEST HAIR EVER, seriously, I was always very skeptical about wearing wigs because of the "wiggy" look but needed something high end that gave me what I was looking for, I'm quite picky so this absolutely did it for me, texture matches mine 150%.....idk what took me so long lol. I've gotten so MANY compliments on my hair, people really think it's mine (that's the point) everyone is fooled. If you want natural hair that matches African American relaxed hair texture, THIS IS IT. Worth every penny, I will definitely continue to purchase wigs from them and more than likely the same texture, when I find something I like, I don't change; ever. The story is quite long but I needed this hair ASAP and they provided me with an outstanding customer service experience I've received in a while when dealing with hair companies, they deserve 100 stars because WOW, exceptional service, high quality hair, I can't get enough lol. Anyways, hope this helps anyone deciding which hair will fit their needs best, it's not expensive it's an investment. Thank you so much for your outstanding service and your highest quality hair

love this hair

I love this hair it's exactly what I wanted, will be ordering again. The customer service was kind and helped me through any question I had. also the shipping was very fast I received it in three days !

excellent service,amazing hair

This is my 3rd time ordering and all I can say is that I'm extremely satisfied! I got the full lace in 20 inches! It took a week to receive...The hair quality is amazing, luscious and soft...washed it, water ran clear. No Tangle at all.The customer service is excellent !!I will always buy from this company.