Natural Color Italian Yaki Brazilian Virgin Hair Silk Top Lace Wigs[STW07]
Orders(360)
 100% Brazilian Virgin Hair Silk Top Full Lace Wig
Length:  16inches
Style: Italian Yaki 
Wig Cap: CAP4 Full Lace 4*5 Silk Top Wig Cap
Color: Natural color
Density: 130%
Hairline:Normal Hairline
Elastic Band (Image): No 
Silk Top: Hidden knots
What is the bleached knots?
Bleached knots help the hair appear as if it is growing from the scalp. When hair is tied to the lace, there is a dark knot where the hair is secured. Bleaching can make knots undetectable and very natural looking. WowAfrican bleaching method won't affect the hair life and doesn't cause shedding problems. On natural bleach hair, the knots are lightered to a light brown shade.
What is a pre plucked hairline?
When a wig is plucked, it is less dense in front, which is exactly the case with real hair. If you take a look at your strands, you will notice hair of unequal length and some short baby hair around your hairline. This is because new hair grow constantly and they can't all be the same length.For a wig to be completely realistic, it has to imitate just that. Plucking of the hairpiece creates those perfect baby hairs and a flawless hairline. Although pre-plucked wigs are usually more expensive, they are simply superior in appearance to all others.
What is the removable Elstic Band?
WowAfrican provide the removable adjustable elastic band(optional) to customers. It is made to be sewn unto wigs for a better, more snug fit. There are 3 hook adjustable options to secure your wig better. If you don't want to wear it, it is easily to remove the wig. The rest two small bands won't affect to wear the wigs.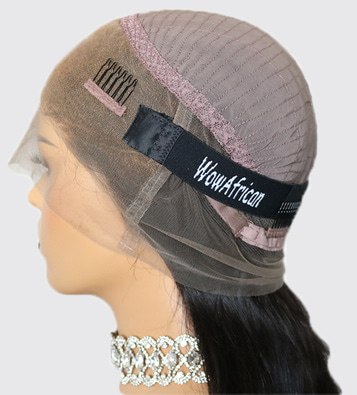 How To Wash Your Wig
Co-wash your hair. It is important to Co-wash the hair before you install to reduce tangling.
Blow dried and don't let it air-dried. The longer the hair swelling goes on,the more pressure it puts on the delicate proteins keeping hair intact,which can lead to more damage.
Use Wide Toothed Comb.After you washed hair, try using a wide toothed comb. Or, use your fingers, rather than a brush.
Deep Condition. After serval installation,a deep condition is necessary.Good conditioner or deep conditioner is need.Try not to apply conditioner to the cap of wig. Just apply condition on the mid shaft of hair down the ends of hair..
How To care curly hair
Choose a shampoo & condititoner that suit your hair type. Curly or coarse hair probably wants frizz-minimizing and softening shampoo.Colored or treated hair probably needs a shampoo that's fortified with extracts or amino acids...
Proper way to deep condition curly hair. Deep condition at least once a week with cold water.Apply moderate the conditioner starting about an inch down from the root all the way down to the tips of your hair,Wait about 15 minutes before rinsing, then use a wide toothed comb working up from the tips to the roots so your hair..
Styling curly hair Shape the hair by scrunching it some more and twirling pieces around a finger.Avoid using brushes and narrow-toothed combs and avoid touching your hair as much as possible.
Don't straighten curly hair because it may cause hair problems like shedding and tangle.We don't suggest to dye the curly hair.Because curl won't keep after coloring.
Customer Reviews
Share your thoughts with other customers
I highly recommend

This is the best Italian Yaki I have ever purchased. It's got a great texture, movement, little shedding, and it holds a curl!!!

Very pleased with it, everyone want to touch my unit, which I hated love love it

Okay so I went longer 16" couldn't find the correct colour dye and went with blonde combo it came out pretty good, now I'm settled in my job, looking for another promotion, I've been working out omg the hair went back to it natural state when I sweated, then I got caught in the rain, it was funny cos I thing I was more surprised than my colleagues

Great buy

I was afraid because of the cost, but I got a big promotion out of state and needed a new look, the hair was delayed. Once it arrived, it was so beautiful, I ordered natural colour, it looked very real, I put highlights in to colours plus the natural which made three, my usual combination, they came out GREAT, I was to scared to cut it, so just left it straight, I really didn't know much about wigs, I ordered the wrong cap, so I'm going to order the next longer hopefully right cap, it was worth the money.

Perfectly natural AND WOW!!!

This is my 2nd order from WOW African, and this wig is simply gorgeous super light not bushy, or too thick I got 100% density only size small natural color. I purchased it in 100% density because it's Yaki hair so is a lot fuller thank the straight. I order it in 22 inches the hair is super light in weight and the silk top is 4.5 inches and you can also part the wig anywhere. Also it holds a curly BEAUTIFULLY!! I I use steam rollers I put it on my wig head and set the hair SUPER HOT Simply beautiful !!! THANKS WOW!!!!

Sooooooo beautiful hair!!

This is the first purchase from Wowafican . It is very beautiful. And over my expect. the hair is very nice. I will recommend to my friends. I am so happy.

:)

hair is nice healthy ends, shipping was very fast.
Thank you so much.

Absolutely Love It!!!!!!

I originally purchased the Italian Yaki from another company some time back. I was disappointed because it would not hold any type of a curl to save its life. Not only that, I could never get it to lay down. It was always so bushy. So while I was looking at youtube I saw so many people talking about WoWAfrican. I decided to take a look at the website. I saw so many types of wigs.(including the Italian Yaki). Because of my bad experience with the Italian Yaki unit from the other company, I decided to purchase a different unit. However, I kept seeing positive reviews on WowAfrican's Italian Yaki, I decided to purchased the Italian Yaki in addition to the other unit I bought. First of all, the customer service was great. Rebecca was my rep. She did a great job in assisting me. When I received the Italian Yaki unit. I positively love it. I have received so many compliments. I ordered the #2 in 12 inches, It is very soft, no shedding, no tangling, and last but not least I can curl it!

soft

This is my first order from wowafrican! the hair is sooooo soft! you are best wow team

Excellent quality

Excellent quality and very good customer care. Delivery was bang on time, will definately be ordering more from WOW. Thanks!!