Kim Kardashian inspired Bob Haircut Virgin Brazilian Hair Lace Wig[CBW08]
Orders(4207)
Each "Bob style" you can think of has a modern Bob wig. From the classic "bob" cut to the fluffy "bob" cut, they are one of the most popular style requests we receive. Regardless of age, no matter what your face shape, you can be guaranteed to have a "Bob" style that suits you. WowAfrican bob wigs are available in different colors, lengths, and textures. 
The timeless bob wig is available in many different styles that will suit all face shapes.
Easy to manage doesn't need to learn more styling knowledge.
Pre Plucked Hairline + Bleached Knots + extra Removable Elastic Band, it is definitely natural looking wig when it arrives.
100% Brazilian Virgin Hair BOB Lace Wig
Image Length: 14"inches
Style: Wavy
Wig Cap: Cap7 lace front wig 
Color: Natural Color
Cap Size: Average (22.5in)
Lace Color: Light Brown
Density: 150% 
Hairline: Pre-plucked Hairline
Elastic Band (Image): Removable & Adjustable
Bleach Knots (Image): Yes
What is the bleached knots?
Bleached knots help the hair appear as if it is growing from the scalp. When hair is tied to the lace, there is a dark knot where the hair is secured. Bleaching can make knots undetectable and very natural looking. WowAfrican bleaching method won't affect the hair life and doesn't cause shedding problems. On natural bleach hair, the knots are lightered to a light brown shade.
What is a pre plucked hairline?
When a wig is plucked, it is less dense in front, which is exactly the case with real hair. If you take a look at your strands, you will notice hair of unequal length and some short baby hair around your hairline. This is because new hair grow constantly and they can't all be the same length.For a wig to be completely realistic, it has to imitate just that. Plucking of the hairpiece creates those perfect baby hairs and a flawless hairline. Although pre-plucked wigs are usually more expensive, they are simply superior in appearance to all others.
What is the removable Elastic Band?
WowAfrican provide the removable adjustable elastic band(optional) to customers. It is made to be sewn unto wigs for a better, more snug fit. There are 3 hook adjustable options to secure your wig better. If you don't want to wear it, it is easily to remove the wig. The rest two small bands won't affect to wear the wigs.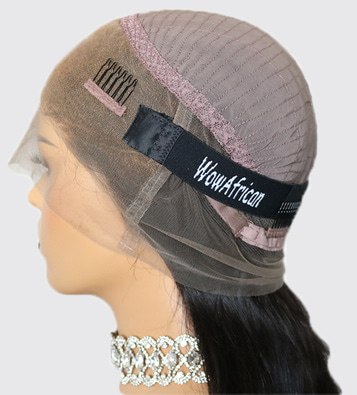 How To Wash Your Wig
Co-wash your hair. It is important to Co-wash the hair before you install to reduce tangling.
Blow dried and don't let it air-dried. The longer the hair swelling goes on,the more pressure it puts on the delicate proteins keeping hair intact,which can lead to more damage.
Use Wide Toothed Comb.After you washed hair, try using a wide toothed comb. Or, use your fingers, rather than a brush.
Deep Condition. After serval installation,a deep condition is necessary.Good conditioner or deep conditioner is need.Try not to apply conditioner to the cap of wig. Just apply condition on the mid shaft of hair down the ends of hair..
How To care curly hair
Choose a shampoo & condititoner that suit your hair type. Curly or coarse hair probably wants frizz-minimizing and softening shampoo.Colored or treated hair probably needs a shampoo that's fortified with extracts or amino acids...
Proper way to deep condition curly hair. Deep condition at least once a week with cold water.Apply moderate the conditioner starting about an inch down from the root all the way down to the tips of your hair,Wait about 15 minutes before rinsing, then use a wide toothed comb working up from the tips to the roots so your hair..
Styling curly hair Shape the hair by scrunching it some more and twirling pieces around a finger.Avoid using brushes and narrow-toothed combs and avoid touching your hair as much as possible.
Don't straighten curly hair because it may cause hair problems like shedding and tangle.We don't suggest to dye the curly hair.Because curl won't keep after coloring.
WowAfrican
Show us your looks and tag @Wowafrican_Official #wowafrican for a chance to be featured!
Customer Videos
Show us your looks ft wowafrican.com for a chance to be featured!
Customer Reviews
Share your thoughts with other customers
Great!

I previously bought another wig from this same company and was totally satisfied with my order.This wig came right on time. It was already styled as pictured.The wig looks absolutely amazing,They were extremely easy to brush out with my fingers. It looked really natural and I will be buying from this company again.

Great BUY!

his is the best wig I've had, It was much thicker than expected and came with a wig pack. Overall I loved it for the price and would buy again.

love love the hair

Love this hair! Acurate with picture. GREAT comunication with the seller, loved it. Fast shipping as well. I will definitely purchase from this seller again. Thank you

You should buy.

The wig is gorgeous, It came beautifully boxed! The hair is soft. density is great ,I am truly in love with this product it's very realistic looking and it is here assistant I love the texture and just how it looks all in all fits perfectly falls perfectly I'm an just in so in love with this wig.

beautiful hair,fast shippping

I love this wig! This was my first time ordering a lace front wig and I am really happy with my purchase. My order arrived a lot sooner than I had expected. I washed the unit and surprisingly there were no shedding or tangles. The hair is really soft and has a nice wave. I will definitely order again from this seller.

Nice Looking Wig!

This is the second wig I've bought from this company, and have been impressed again by the quality,it l ooked as described, and the wig was so soft and natural looking,Definitely recommend.

I am so in love with this wig

Awesome customer service! Fast shipping! Package even included a surprise:) the unit is my first lace front and I loooove it. The texture is so soft and tangle free yet , it looks and feels so much like my actual hair. It's quite full too

Absolutely In Love With This Unit!!!!!

This is my first wig and I am sooooo amazed and in love with it. I have received tons of compliments about my hair and natural it looks. I will be honest before ordering the wig I did tons of research and watched a lot of the YouTube videos as well on this company. When I received the hair it came packaged very nice and neat along with other little gifts. The hair was very soft and thick, which is great because I don't like thin hair due to my natural hair being very thick. I cut and dyed the hair honey&ash blonde. This unit came out great and when dying it I conditioned it and used a bond sealer to ensure the hair remained in great condition. It has very minimal shedding (hardly any to be honest). It does tangle throughout the day at times, but that's easy to manage by using my fingers to detangle it or a small paddle bush. I will be ordering from this company again b/c of the quality of hair. I also want to recognize the customer service I received b/c it was great and I'm a stickler about that b/c I work in customer service as a Manager. The guys I had was awesome and very kind. He was fast and efficient, which made the process even better. Thank you WowAfrican!!!!

Ammmazzzziiinnnnggg Unit!

When I first ordered this wig I was nervous, but before ordering I completed research for about 2 weeks and then read tons of reviews on the company and this specific unit. Let me tell you babbbyyyyyy I love this unit! It arrived in a timely manner and the wig was soooo soft and fluffy. Before installing it I colored (honey/ash blonde) and cut it (of course I conditioned it throughout the coloring process). It has very minimal shedding and it honestly looks close to my natural hair color. I did experience a little bit of tangling, but that was easy to fix by running my fingers through it. I have received tons of compliments and comments on this wig. I recently had 6 co-workers order the same unit from here. I will definitely order again from this company.

This is the best wig I have ever had absolutely!

This is the best wig I have ever had absolutely! No shedding, no tangles, and after dying the hair it's still feels great. Hair came in less than four days ! The communication was awesome! They kept me updated on the hair through the whole delivery process, I will definitely be buying again!